With our unique and helpful Bluetooth Speaker with Light, camping can be fun and enjoyable and our Ultimate Camping Checklist can enhance the joy for your family and friends, or even your own. There are many national parks and camping sites across the United States that you can visit to create memories and participate in recreational activities. Camping with friends and family is undoubtedly a fun experience, until you forget to carry some of the most useful camping accessories such as sleeping bags, camping lights, mosquito repellent, and more.
Along with tents and sleeping bags, there are many other camping accessories you need to carry to enhance your camping experience, and the latest addition to the list is The Quad-v (LED Light with Bluetooth Speaker) by Canopy Buddy.
The Quad-v
The Quad-v is an innovative and modern camping accessory that is purposely designed and developed to solve the real-time problems of campers, beachgoers, and hikers. This portable, lightweight, and attractive outdoor accessory can be conveniently carried with you anywhere you go. It has a powerful LED light with a Bluetooth speaker, both powered by an 8X rechargeable battery. The LED light will effortlessly illuminate your canopy or camping/outdoor area, while the Bluetooth speakers keep you entertained while spending time in the suburbs, wilderness, or anywhere outdoors.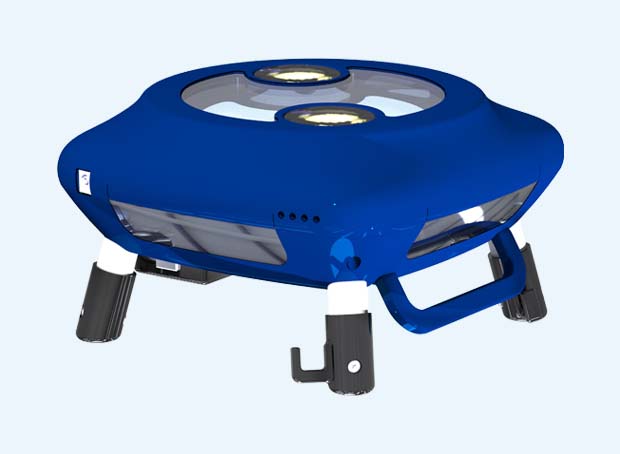 Features of The Quad-v
Canopy Buddy is a team of enthusiasts who strive to help campers and beachgoers by designing and developing products that are useful in environmental adventures. The Quad-v is one of these innovative products designed by Canopy Buddy. The Quad-v has a one-of-a-kind light source and built-in Bluetooth speakers. This useful outdoor camping accessory can be conveniently placed on the table, carried in hand as a lantern, or hung upside down from the center of the canopy, making it the ideal solution to any situation in need of light.
This multipurpose outdoor camping accessory can be used in a variety of places. This includes but is not limited to the house, beach, lake, river, outdoor markets, corporate events, and even natural calamities when you experience a power outage. It is portable, easy to store, and made from durable material so that you don't have to worry much about its protection and safety. Moreover, it is powered by an 8X long-lasting lithium-ion rechargeable battery, allowing The Quad-v to keep working for extra hours compared to ordinary canopy/camping/emergency LED lights offered on the market.
The built-in LED light can be conveniently operated from a distance using a remote control. The Bluetooth speakers allow you to enjoy the music of your choice with the help of your smartphone.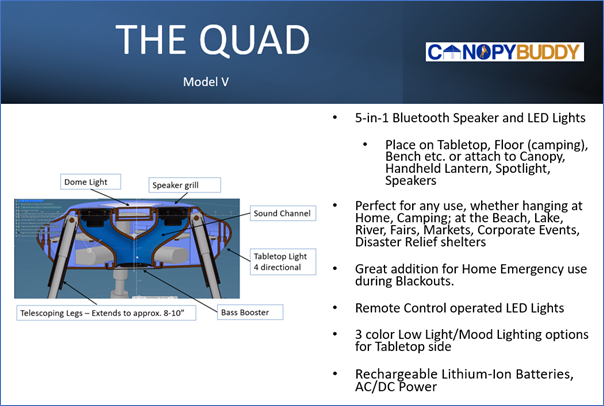 Pre-Order Before Others: The Quad-v
If you are about to go camping or visit the beach with your friends or family, then don't forget to grab a Quad-v to complete your experience and help make some memories. This 5-in-1 camping/outdoor accessory allows you to keep your campsite illuminated once the sun goes down, while the Bluetooth speakers perfect the atmosphere.
Pre-Order Now
To pre-order The Quad-v for yourself or to gift someone your outdoor enthusiast family or friends, please visit https://canopybuddy.com/product/the-quad-v/. If you have any questions related to The Quad-v, then feel free to contact our team at 714-654-9005. You can also like us on Facebook and follow us on Twitter to get updates on the latest deals and discount offers.